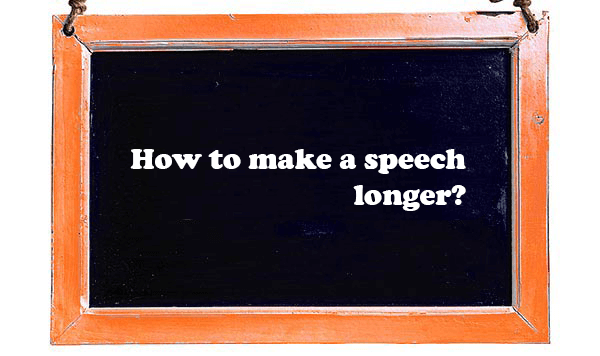 You must have experienced short speeches that end in a few seconds and some very long ones that seem endless. They may miss the proper delivery of a message or bore the audience. Finding a balance and a perfect length is essential for a successful speech.
It would help if you focused on the main message you want to deliver in your speech. Therefore, your speech should be long enough to convey the message without distracting from the key point. For this purpose, you must write your speech very carefully or buy an essay or speech online from an authentic writing website.
This article has mentioned all the helpful and practical tips to make a speech longer without unnecessary delay and useless information. Let's have a look;
Do You Want Someone To Write Your Essay: Purchase Essay online
Helpful Ways To Make Your Speech Longer
Prepare your mind for clear and slow speaking. Practice your speech in the same way before the final speech. Speaking clearly helps the audience understand your speech more clearly and increases the speaking time.
Don't get too much emotional or enthusiastic. This way, you will speak faster and may finish your speech before time. However, don't get super lazy that it may exhaust the listeners.
Focus on the key points in your speech. Elaborate them in one or two ways. Don't refrain from repeating, rephrasing, or summarizing the important points for better understanding and great emphasis.
Remember, don't repeat the same words, phrases, or sentences one after another. For example, "I did this to get a new car," "I did this," "I did that," etc. You can repeat the same theme or idea in different ways. Slightly change the example, story, or speaking tone and style.
Give short pauses in your speech. This will increase the length and give a very performing effect to your speech. You can observe a pause time in your head or count it numerically on your fingers.
Use short breaks by saying, "Think about it," "You have to answer this," etc.
Tell stories related to the topic of your speech. This is the point that relates the audience to the speaker. Most students are stuck at this stage while writing their speech. Storytelling is not everyone's cup of tea. Ensure that you are not compromising on adding a story to your speech. If this seems difficult to you, purchase an interesting speech online.
You can use your personal story, success story, metaphor, or another inspiring event.
Include examples, facts, quotes, stats, or some scientific research. This adds credibility to your speech. Use "quote" and "unquote" words before and after stating someone else's quote.
Use visual aid like presentations, slides, graphs, or some diagrams in your speech. Remember, you should not do a slide reading only. Explain the content in your speech and use your presentation slide as a reference.
You can also include video clips in your speech. This will lengthen your speech by keeping the audience's interest high. Put a video clip where it is necessary.
Engage and connect with the audience. You can as multiple questions to them. Do any other activity with them. Give them some tasks and ask them to raise their hands and share them one by one. You can also give a review or any other performa to the audience.
Use these techniques with your friends and family while preparing for the audience. This will help you analyze the time required for these activities.
"Walk and talk" is another helpful technique for natural pauses in your speech. Moving will help you think and speak, that increases the speaking time.
Practice your speech multiple times and observe the time. Add some more material if your speech is too short. We suggest you have some extra data in your backup for any sudden situation. Use different speaking styles, rhythms, and pauses, and note the time.
We have implemented these tips multiple times and have asked our students to use these strategies in their speech writing. Every time, we found impressive results. You can also use these ways to make your speech longer without making it awkward. Most students find it a daunting task. If you are also one of them, consult expert writers and buy a speech from one of the best essay websites i.e, Mypremiumessay for a compelling speech. Give your details and leave the rest to professionals.
Place Your Order
By clicking "Continue", you agree to our terms of service and privacy policy. We'll occasionally send you promo and account related emails.