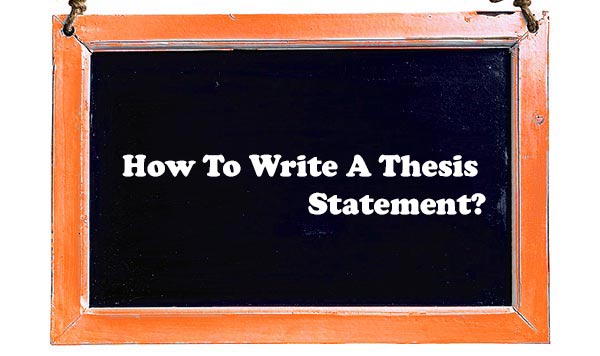 What Is A Thesis Statement?
A thesis statement is a one sentence that contains a main idea, summary or a theme of an essay. For some complicated subjects, it is preferred to discuss a theme in more than one sentence. It is written in the first paragraph of an essay and usually at the end of an introduction section.
A thesis statement is the road map or the framework of the complete writing. It gives the clear direction to the reader about the whole essay. You need to create your own thesis statemnet whether a topic of the essay is assigned to you or not. Your essay must contain a strong thesis statement.
Why Is Thesis Statement Important?
Among all other sections of an essay, thesis statement also holds a significant place. It is so important to choose a solid thesis statement because:
It prepares the reader for rest of the essay or paper.
It gives the clear answer of the strong question.
It allows the quick and authentic interpretation of an essay.
It makes a very compact and concise essay.
All these benfits combine to make a thesis statement an important element of the paper or an essay.
Kinds Of Thesis Statement
Thesis statements vary depending of the type of essay you are writing. Below are some of the important kinds of thesis statements:
1. Claim Making Argumentative Thesis Statement
This is the most commonly used type of thesis statement. They make a strong and clear claim about the topic and shows your position or command over the topic. This type of thesis statement is supported by strong evidences and logical reasonings to prove your claim.
2. Issue Solving Analytical Thesis Statement
Analytical thesis statement is focused on a particular issue. It can be the topic of your essay as well. They are supported by personal analysis, opponents judgments and a clear conclusion. After reading essays with such statements, readers are quite clear about the topic.
3. Fact Explaining Expository Thesis Statement
Expostory thesis statements are very descriptive and info based statements. They are supported by all the necessary information, facts and figures, researches, and other related data to explain a topic from every angle.
How To Create Thesis Statement?
Creating or writing a thesis is a very lengthy and technical process that involves deep understanding and analysis of the topic. To make it easy, we have summarized the whole process into some very easy steps:
Think about a topic and make an argument or a question.
Make a hypothesis or a tentative answer of the question.
Collect all the necessary information regarding your proposed answer.
Completely understand the topic.
Think about all the possible relationships between the evidence and argument.
Uptil now, you must have a rough statement or main idea to work upon.
Adjust the statement according to your understanding and make a clear thesis statement.
Also Read: How To Write A Narrative Essay
Characteristics Of A Strong Thesis Statement
A strong thesis statement greatly influence the reader as compared to a general statement. An impressive thesis statement has the following characteristics:
It should clearly answer a question.
It should be very specific and precise.
It should be at the position so that one can disagree with.
It should pass the "what and how" test.
It should sound confident.
It is not a simple fact statement.
It requires strong evidences and research to prove.
It should be engaging and responsive.
Some More Tips On Writing A Thesis Statement
Here are some more tips to write an effective thesis statement:
1. Be On Point
Specific and on point thesis statements always perform better than a simpler one. Do not cover broader perspective. Always try to narrow down your niche, and then generate a thesis statement.
2. Show An Authority
You must adopt a confident and influencing writing tone to create a thesis statement. This will help the readers trust your essay and final conclusion. Make sure that your thesis statement is arguable or not.
3. Make Clear Claim
Make it easy for the readers. Add clear, easy to read and understand claims. Do not keep any ambiguity or doubt in the statement. Keep it very simple and avoid fancy vocabulary. Support your statement by strong evidences.
4. Give References From Credible Resources
References from authentic and credible resources increases the credibility of an essay. You can use online well-reputed resources or famous books, journals, & magazines etc.
5.Correct Placement Of Thesis Statement
Position of the thesis statement matters alot. It is preferred to use it in the introduction paragraph. Exact position may vary. It will make reader mentally prepare for what he is going to read in the whole essay. Besides position, keep the length of your thesis statement short. A recommended length is one sentence of about 30-40 words.
These are the writing techniques used by our experts. They have provided essays with strong thesis statements to hundreds of students. Do follow these steps and create a compelling statement for yourself. However, if you do not find enough time and feel unconfident, ask our expert essay writers. They will help you in your statement writing.
Place Your Order
By clicking "Continue", you agree to our terms of service and privacy policy. We'll occasionally send you promo and account related emails.