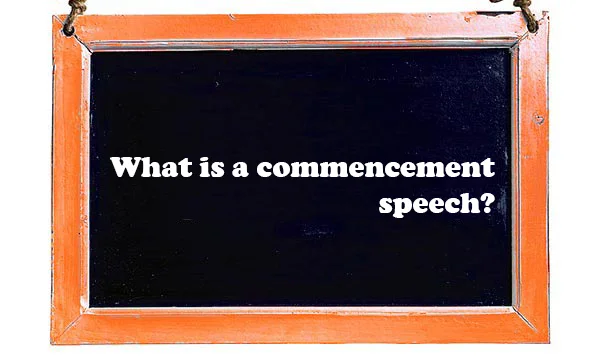 Have you ever heard of a speech by any student at a convocation ceremony addressing his fellows? Yes, you got it right. That is the commencement speech. You must be thinking, why is it called a commencement speech? Although it is given at the end of the academic phase. This a valid question.
Remember, Commencement speeches are emotionally attached to the audience. It is always a challenging task to write it on your own. This is why most students prefer to purchase premium essays or speeches online.
We are here to address all your queries. This article will tell you about what is a commencement speech, its purpose, and some practical tips to make it interesting. Let's dig into it;
What Is A Commencement speech?
A commencement speech is a mood-lightening speech delivered at the graduating ceremony of any institute. It can be given by any student, alumni, or even chief guest for the graduating class, their teachers, and their parents. The person who delivers this speech is known as the commencement speaker. A student who delivers this speech may be valedictorian or selected by student societies in the institute.
Purpose Of A Commencement Speech
A commencement speech is delivered to celebrate the past experiences of students' life, celebrate the present happiness and accomplishments, and wish good luck for a bright future. Students usually pay much attention to the selection of its topic. No doubt its writing is quite challenging and time taking.Most students pay someone to write a speech and get it done perfectly.
Why It Is Called A "Commencement" Speech
The term "commencement" refers to the beginning of something, which is usually misunderstood due to the delivery of this speech at the end of a student's academia on the occasion of the degree awarding ceremony. Remember, this speech refers to the new beginning or phase of one's practical life after completing his bachelor's or master's degree. This is why it is named a "commencement" speech.
Tips For A Perfect Commencement Speech
Public speaking is always nerve-racking. It always requires impressive speaking skills to gain and maintain the audience's interest throughout the speech. A speaker is usually worried and thinks of where to buy an essay or speech with a powerful impact. Our experts help students in every possible way and mentioned some effective tips for a perfect commencement speech. Let's have a look at them;
Pick an interesting theme for your speech. Select a topic carefully that may interest everyone. The most commonly used themes are lessons learned from past mistakes, the importance of learning, challenges of the future, and many more.
Know your audience. Remember, you will be addressed to all levels of people, for example, professionals, students, parents, and other lay persons. Ensure that your speech is equally interesting for everyone.
Begin with gratitude and thanking the parents and teachers.
Relate your speech to the audience instead of making it too personal. Don't overuse personal pronouns.
Avoid too many past experiences in your speeches that have nothing to do with your new beginning.
Get a little technical in your speech. Keep it easy to understand.
Add some humor to keep it on the lighter side.
Avoid overuse of quotes in your speech. The proper use of one or two quotes is enough. Motivational quotes are preferred.
Motivate the graduates to serve humanity through their profession. Ensuring the money would be the by-product of their efforts.
Keep your speech meaningful yet short and concise.
Practice, practice, and practice your speech before the final date.
A commencement speech is a mix of emotions, past moments, a strong message, and good wishes for the future. Strong and compelling writing skills are required for its writing. Most of the students feel unconfident about writing it on their own. Therefore they look for someone to help them with their speech. Our experts at Mypremiumessay are ready to help such students. Stop worrying anymore and seek help from experienced professionals.
Place Your Order
By clicking "Continue", you agree to our terms of service and privacy policy. We'll occasionally send you promo and account related emails.