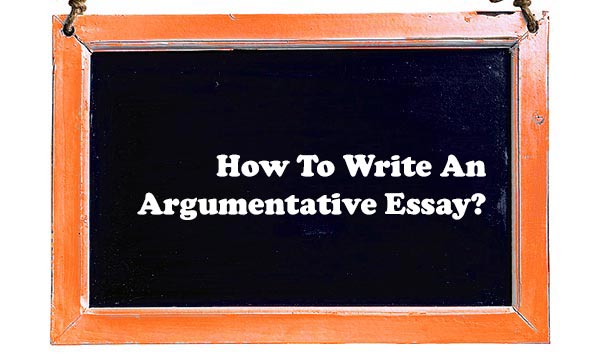 Every essay resembles other types of essay in one or other ways. They differ slightly in their technical terms. Argumentative essay is differentiated from other essays by providing facts and figures.
Argumentative essay is the type of essay that includes strong and logical evidences and arguments to support or oppose a thesis statement. This essay does not any aggressive writing tone. As the name suggests, it only contains relevant and influencing arguments backed with extensive research to convince a reader on a particular point.
These essays are more focused on empirical and quantitative data as compared to emotions and quality of anything. Argumentative essay des not leave the decision on the reader like expository essays, it strongly favors a single point and agrees the reader on it. Such type of essays not only contain writer's point of view but it also discuss te opposite arguments in detail to make everything crystal clear. It does not leave any doubt in the readers' mind.
Argumentative essay is the most common piece of writing at high school, college, and university. It is usually written on scientific topics and subjects. Before writing students must be aware of the basic structure and approaches used in an argumentative essay. If you don't have the enough knowledge, do not worry. Given below are the easy guidelines to understand the argumentative essay structure and writing.
Basic Structure Of An Argumentative Essay
A visually appealing and perfectly structured argumentative essay always perform better than a roughly formatted essay. To achieve that you must be well aware of teh correct position of arguments and opinions and divide your essay into required sections. Below are the important sections:
1. Introduction
This is the first paragraph of an argumentative essay. It contains hook statement and a quick, clear and precise answer to the thesis statement. It is written so interestingly so that it grabs the attention of the reader. An introduction should be focused on readers' emotions.
2. Body
It is the middle part of the essay. It constitutes three to four paragraphs in which multiple logics, evidences, facts, arguments and counter arguments are given in a very readable manner. Every paragraph has a specific main idea and theme discussed in it.
3. Conclusion
This is the last paragraph of an essay which beautifully summarizes the whole essay and gives a very clear, crisp and practical solution to the reader.
All these components combine to increase the readability and flow of an essay.
Read More: How To Write A Thesis Statement
3 Best Approaches To Write An Argumentative Essay
Argumentative essays differ in their complexity of arguments and evidence. It may range from simple facts to complex evidences and arguments. To write such essays, different argumentative approaches are used
1. Classical
Classical argumentative approach is the most commonly used method for giving simple and clear arguments in an essay. It follows a very clear directions and arguments are given based on ethos, pathos and logos principle. This approach creates a perfect essay in a good flow. It simply contains a captivating introduction, a body containing author's point of view, opponents' perspectives, facts to support your statement and a good summarizing conclusion.
2. Rogerian
Rogerian approach is a reader friendly method for an argumentative essay. It involves the arguments from both sides. Arguments are given both in favor or against the both statements. It depends on reader what suits best to them. This method contains the following steps:
Simply give a nice and moderate introduction
Discuss the opponents' opinio first, confirm its correct component and validate them
Put your opinion and back it with strong research.
Consult both views and discuss a middle and most practical way.
Conclude your argument by consulting both options.
3. Toulmin
Toulmin approach is used to tackle the thesis statement of complex issues with some ambiguity in it. This method involves a deep logical analysis of the topic. It is used to confirm a particular statement backed with multiple researches. Toulmin method can even prove your opponents' view a correct one. This involves the major 6 sections which consist of
Clearly claim your topic or thesis statement
Give reasons, evidence, and actual data to support your statement.
Make a strong connection between your claim and evidences
Back your opinion with researches
Address your opponent's view, add counterarguments and prve your claim strong and true.
Once you finalize the approach you want to use in your essay. You must follow the below steps before starting your essay.
Prepare yourself
It is always suggested to prepareyourself for writing. Do not start writing on blank page with a blank mind.
Choose A Good Thesis Statement

Make sure to select a compelling topic or thesis statement. It is the main center of the essay. Always select the topic in which you feel interested and have some prior knowledge in it. Also check that if there is any credible resources available or not. Facts and figures make the strong basis of an argumentative essay. Therefore, you must check if there is any quantitative data available on the topic.
2. Brainstorm
Once your topic is finalized, brainstorm your thesis statemnet. Jote down your rough ideas in your mind. Collect the relevant material. Add it to your resource list. Take your time and think about all the possibilities regarding your topic.
3. Create an outline
After collecting useful information, create a rough sketch or an essay structure. Roughly assign your gathered information a position. This will help your structure your essay more easily.
4. Write down
It is so easy to write down when your structure is ready. Add all the information in detail in their respective sections. It would be a plus if you add all the important data in a very good flow. Always try to make your essay an easy read for your the reader. Try to engage them with your writing. Give personal examples and make t relatable to reader.
5. Revise
Once you complete your first draft, Give it two or three reads. Cut all the unnecaessary information. Keep it very valuebale for the reader. Focus on the transition between different paragraphs. Double check your language and confirm the authenticity of added arguments and its references.
6. Proofread
In the end, don't forget to give a final proofread. Ccek grammar and spel errors. Focus on sentence structure. Always proofread with a fresh mind.
In the end, don't forget to give a final proofread. Ccek grammar and spel errors. Focus on sentence structure. Always proofread with a fresh mind. If you are not native a speaker, ask someone for the essay help. Most of the students face difficulty in essays, they come to us and feel so relaxed. Our experts are always ready to help us in every difficult phase. Students are much happy from us. If you also feel worried about your essay, simply send us, "write my argumentative essay" and leave the est on professionals. You will get best performing and top-scoring essays by native writers in no time.
Place Your Order
By clicking "Continue", you agree to our terms of service and privacy policy. We'll occasionally send you promo and account related emails.